Safe, attractive flooring starts here
Gold Coast Floor Preparations, Inc., has been a leader in the substrate preparation industry for over 30 years. Our team of experienced professionals has millions of square feet of successful installations throughout the industrial, commercial, and residential markets. We are an ARDEX LevelMaster Elite installer for Southwest Florida.
We offer a range of services to help you get your floors ready for any project. Our shot blast cleaning and profiling service is an effective way to remove any existing coatings or contaminants from your floors, leaving them clean and ready for the next step.
In addition to cleaning and floor preparation, we also offer floor leveling services to ensure that your floors are smooth and even. This is especially important for surfaces that will be receiving a designer epoxy coating. Substrate preparation is essential to ensure that the coating looks its best and performs well for years to come.
Our concrete moisture remediation service is designed to address moisture problems at the source, helping to prevent future damage and ensure that your floors are ready for whatever you have planned. Ask us about our 30 year warranty.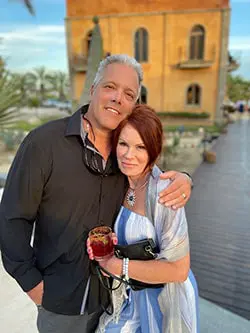 At Gold Coast Floor Preparations, Inc., we are experts in substrate preparation, floor leveling and epoxy coatings. We are located in Treasure Island, FL and offer our services to customers in St. Petersburg, Largo, Tampa, Clearwater, FL, and beyond.
If you're in need of expert floor preparation services, look no further than Gold Coast Floor Preparations, Inc.. Contact us today to learn more and to get started on your project.
Gregory Siciliano, you and your company are hereby recognized as a Top Gun Pinellas County Concrete Restoration company by the County Advisory Board.
Top Guns are recognized as someone whose skills and services go above and beyond the call of duty to make their local communities and counties a better place to call home.
Gregory is the owner of Gold Coast Floor Preparations, Inc, a full-service Concrete Restoration company located in Pinellas County…[Read More]
Contact Gold Coast Floor Preparations - your floor repair, floor leveling, and floor coatings experts - and receive a free quote for your industrial, commercial, or residential project.